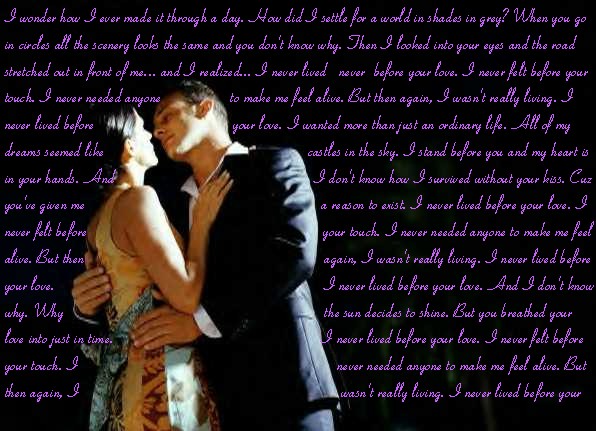 Welcome to my personal web site!
UPDATES!!!!
(Only the past 5 updates will be shown.)
January 2, 2004: Happy New Year! I will work on a new layout soon... I PROMISE. However, I updated some things on my page and on my friends page. I have made friends with a few more lovely people, so they are on my list. Love you all.
June 4: Yah... I know... it's been a long while since I've updated. But I felt like updating today, so I did. I added a page for my cheer squad. Yah... no pictures up yet, and that's cuz I don't have any yet. So I need one first before I can put it on the site... but believe me, we're all hotties. LoL.
I updated my "Friends" page for I've made some new friends. All the girls on my cheer squad are my friends, but they have their own seperate page, which is why they're not on the real "Friends" page.
I updated crap about me. Yada yada yada... and that's pretty much it... well, for now at least. And it's late, so I'm gonna go.
March 4: FINALLY a new layout!!! I like it.... 'cept I don't like how the menu and the heading to my site is white and in a really ugly font. Too bad I can't change it. Well, in progress of changing other pages too. Bye.
Calender:
January 1: First day of 2004!
January 5: First day back at school. Yuck.
January 10: Jacquie's birthday
January 11: Ross' birthday
January 12: Marquetta's birthday
January 16: Stacey's birthday
January 19: My 18th birthday
January 21: Andrea's birthday
January 23: Laina's birthday
January 26: Christine's birthday
January 30: Last day of 1st semester
January 31: Winter tolo!
HOLY MOLY! Look at all these damn birthdays!!!!